Well, here it is…
I managed to put together a first version of the DirectShow capture filter for PS3Eye camera.
This will allow many of us to use this great camera in various Windows applications (assuming they are compatible with DirectShow system).
I made single PS3EyeSetup application that will install PS3Eye driver, DirectShow filter and test applications all at once. It will also allow for clean Unistall, for those of you that are experiencing problems with Flash content in IExplorer and Mozilla browsers.
Installation:
- Download and run PS3EyeSetup file.
- Click 'Install' and follow the setup process.
- Plug in the camera.
After successful installation, your Device Manager should look similar to this: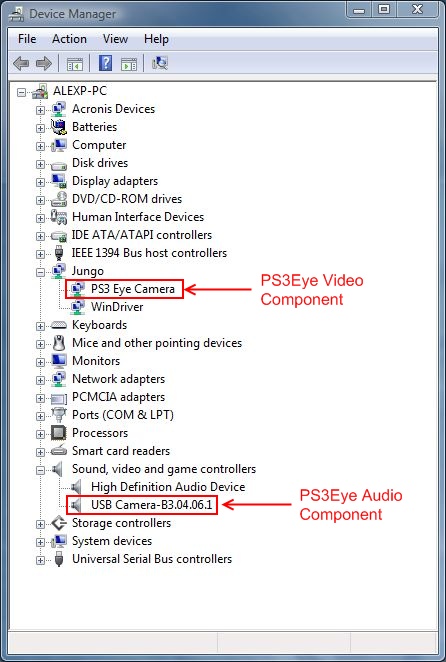 You can run the PS3Eye Test App from the start menu at this point to verify if camera installed properly. DirectShow Video Source for PS3Eye camera will also be installed, registered and ready to use. To test if PS3Eye DirectShow component functions properly, run the AmCap application from the start menu.
After a few moments the camera will start capturing and the AMCAP will show the camera preview in its window:

Currently the camera is set to capture uncompressed 640×480 YUYV (aka YUY2) video at 30fps.
Please note that this is an early version of the filter and property pages are not yet implemented.
Now you can enjoy using this great camera in your favorite Windows app!
And most importantly, the PS3EyeSetup file.
NOTE: Thank you all for your feedback. Please be patient as this is a work in progress. I am aware of the few bugs.
Please check here for new updates and files.
UPDATE: I worked on major bug fix. Flash player camera capture now works properly.
I successfully tested it on http://www.snapture.com. Please download the latest PS3EyeSetup (1.0b81006).
UPDATE: Increased compatibility by setting default capture frame rate to 15fps for DirectShow filter (320×240),
making it fully compatible with Flash and many video conferencing programs out there. Fixed 'green screen' bug.
Please download the latest PS3EyeSetup (v2.1.0.0130).
~Alex