hi there,
i wanted to share some information of my thesis work with you.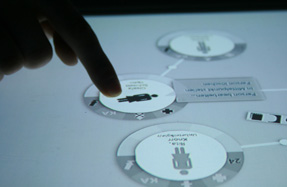 i have put together a visualization app for the german police of the state of Hessen. using vispol, the police can model the constellation of involved persons and objects throughout special situations like hostage-takings or bank hold-ups. persons are represented by circles and can be attributized etc. for more information to Vispol you can take a look here.
although the police is gonna use Vispol in an Adobe Air mouse version, i have originally created Vispol as a multi-touch application. Vispol uses flash as3, flex and adobe air based on the nuigroup tuio as3 implementation. we use it on the Virttable and the TwinTable. i have enhanced some flex gui elements in order to provide the simple creation of further multi-touchable flex applications.
More information, an interactive mouse version of Vispol, more videos and a paper.