EDIT : big update at the bottom !
Hi everyone !
After trying out an MTMini, and looking at the different technologies and variation of MTTs i decided to give it a go as well , and hope this will be my first contribution to NUi

EDIT : newer videos in the latest post

So what is it exactly ?
-Well, since i have very very little spare space in my flat, and just love tinkering, i looked at the different possible ways to create a flat (or "flatter") multi touch screens , specifically in these threads :
lLink as well as link
I whipped up a very small scale test last week end : you can see the result of some very preliminary testing in the video above:
-It will most likely be rear DI based.
-This how it works : IR diodes are each surrounded by 4 Photo-transistors (well, 4+2, since i didn't have the space for a real 3*3 matrix) linked to the analog pins on an Arduino board.
The program was done in Processing ( first processing program for me , but so much fun !) (processing.org/)
-the program translates the ir intensity from the photo-transistors to a few different visual representations : "circles "(white) for each, based on intensity, plus numerical values, and some interpolation attempts (red circles). Will see where this goes… (resolution/tracking problems, as well as overall cost, for now my estimates are quite good)
-as i do not have the budget or space for a projector, i will be using some small disassembled lcd screens (16 " and 19″): I have already successfully disassembled (that means the screen still works! yeah !) the 16″ Asus Screen (VW161), so i will post some disassembly step by step pictures on my site as soon as i can.
As pictures are worth a 1000 words ...
General layout of smallest size matrix: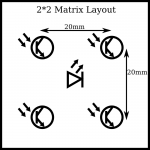 This is most likely what the wiring will be for my next bigger prototype (with more than just 4 phototransitors of course, it should scale well, and have the smallest possible amount of components and wiring yet still efficient, i hope)


Advantages:
-Obviously this would enable to add multi touch to a screen while keeping it very thin (around 5mm)
-I do not intend to use a very dense sensor matrix so construction cost and difficulty should be kept relatively low (around 60 dollars for all the sensors and electronics for a 16" screen, not including the arduino)
-If my calculations are correct the arduino should be able to handle the sensor data acquisition as well as some low level interpolation (needed since the matrix is not very dense) at very high fps
-the system can be made modular by linking multiple smaller sized matrices (this is not an immediate concern of mine though)
-the plan is to have a lot of pre computing done on the arduino itself, and then send a videofeed/ frame by frame pictures directly to touchlib/some other library , so it can use the already existing frameworks and programs ( i am looking around the documentation and haven't found a way for this yet tbh)
Disadvantages:
-the ad-hock resolution is quite low but with a little bit of trickery it can be compensated (by interpolation etc)
-the bigger the screen , the more sensors and ir emitters you need
-the bigger the screen the bigger the computation cost (an arduino can only handle so much)
I hope you will excuse me for the long winded explanation, and i hope that this can be usefull, i am very open to any sort of criticism , feedback and suggestions, and will post back when i have some progress done.
I will also provide additional information on my site as soon as i can :Kaosat.net
Bbye !